Welcome, you have arrived at a hobby site containing discussion and free open source software for people with moderately large music collections. It is of special interest if you are a dinosaur, still enjoying your own music collection, in preference to the bloated impersonal catalogue of some music streaming service. 
The central focus is to provide tools to obtain, store, and utilise your album and track play counts, collected from across all of the devices and locations where you listen to your collection.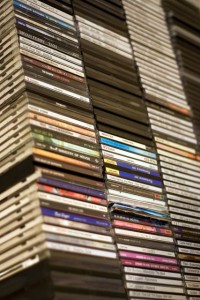 My own interest in my play history comes, not so much from any personal need to produce my own Hit Parade, but more from a desire to be able to identify and browse from my growing list of albums which have fallen out of recent rotation. This aids engagement with a large music collection, by bringing it back to a more intimate scale. It gives me better browsing, and therefore enjoyment of the whole breadth of my collection. For this site to be of much interest you would probably need to be a customer of, or open to, at least one or more of the following companies:
www.Last.fm – a great free Internet based service which can aggregate all your music play counts from across most listening platforms. It can graphically chart your play history, and analyse your musical taste to suggest new artists, or put you in touch with people with similar likes. But it can't identify those of your own albums which have fallen out of recent rotation, as it doesn't know which albums you actually own
MediaMonkey – a nice PC-based facility for browsing, cataloguing and tagging your music collection. It knows what you own, but doesn't know which items you have recently listened to using your various music listening platforms
Google Play Music – a generous offer to store & stream, at no charge, up to 50,000 of your own tracks … but hampered by a hall of shame playlist building facility
Sonos HiFi system – seriously good kit, with rock-solid multi-room sharing and synchronising facilities, but with a disappointing problem … no access to your play history
Microsoft – The AlbumPlays application runs on a Windows PC, although Sonos owners may run the play detection component on a small cheap Linux device to avoid the need to keep a PC running
The software and discussion here pertains to the above vendors, addressing the following deficits with workarounds and options.
obtain your album and track play counts either:

import them from www.last.fm, whose free service can aggregate your play history from across a wide range of music platforms, including your PC-based players, many mobile music players, and any Sonos units you may own
or, if you are a Sonos owner, you can harvest your play history directly from any Sonos players, and selectively import any non-Sonos plays from your Last.fm account

store your album and track plays either:

into your MediaMonkey database
or elsewhere on your PC in raw format, creating potential for importation into some database or application other than AlbumPlays or MediaMonkey
and for Sonos owners; there is the option to replace the Sonos facility to report plays counts to Last.fm, because the native Sonos behaviour has some unfortunate limitations such as loss of control, loss of information, and a limitation of just one Last.fm account per household

use your play history

with AlbumPlays you can design, and auto-refresh, multi-targeted playlists, suitable for use in any or all of the following situations:

at home using your Sonos, your PC, or your mobile device
or while travelling with a WiFi or USB disk drive
or while commuting, streaming from Google Play Music servers (where you can store up to 50,000 of your music tracks at no charge)

use MediaMonkey to design and browse using your own custom indices to sort or filter your music collection; for example:

albums that you haven't heard for a year
or albums you have only heard once, and not for at least six months
or your albums by Artist, sub-sorted by date last played, or play frequency

use MediaMonkey to design Google Play playlists * design playlists using MediaMonkey's superior facilities, and have AlbumPlays publish them directly into your Google Play library
Interested? …. here is a short overview of the benefits available