This topic is applicable to Sonos owners only.
The aim
If AlbumPlays has been configured to scrobble your Sonos plays, the Observation & Detection (O&D) component needs to be running whenever your Sonos is playing music that you want scrobbled.
You can avoid the requirement to keep a PC running if you run the O&D component on some other device. A Raspberry Pi (RPi) is a good choice because:
it is a bare bones device from a not for profit organisation, making it inexpensive to purchase
it consumes minimal power (roughly just 12% of what a Sonos Play:1 consumes when silent)
it can attach to your wired or WiFi network
it runs using Linux, which is free and superbly robust (essential for an always-on, don't touch device)
Some set up is required, but it is not too difficult, as this tutorial hopes to demonstrate.
What happens then?
The Raspberry Pi silently sits attached to your home network, detecting your Sonos plays, and attributing these to the likely household member. These Spy observations accumulate, and are available to the main AlbumPlays application running on the your PC.
The Raspberry needs no screen or keyboard, as there is no ongoing interaction. Where it becomes necessary to control it, or to install AlbumPlays updates, you do this by loging into it from your PC.
What you need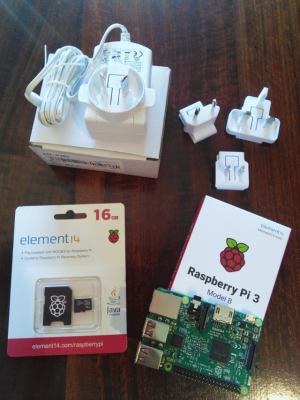 You may also buy a case for the Raspberry Pi, although initially I just stole a Tupperware container from the kitchen, and punched some holes into it. The official case does look a whole lot better though, and may keep you in better speaking terms with whomever runs the kitchen. 🙂
Next step: Installation options
Site map: Index to my Raspberry Pi installation & support pages