This topic is applicable to Sonos owners only.

The Raspberry Pi was introduced in a previous topic ; how it enhances AlbumPlays, what you need to get, and how to install it.

The aim of this step is to remove any need to have a screen, keyboard, or mouse for your Rpi. We will enable your Windows PC to access the RPi's Windows-like desktop, as this is the easiest way to control the RPi for those of us without a deep Linux background.
1. Install a remote access server onto your RPi.
2. Log into the RPi desktop from your PC.
This step requires the TightVNC program which you previously installed on your PC

This step also requires that the remote control server on your RPi is already running. At the moment we are manually starting it, but in a later stage in this tutorial I will show you how to configure it for auto-start.
The RPi must be running, with it's remote control server started. It will be in this state if you are following on from the previous step in this tutorial. If the RPi has been restarted, you will need to restart Tightvncserver.
Open the TightVNC Viewer program on your PC, enter the your RPi's IP address followed by :1 as illustrated in the following illustration, then press the enter key.
The RPi will answer with an authentication challenge. Type in the password that you set when you initialised the vnc server on the Rpi.
The RPi's desktop will open in a window on your PC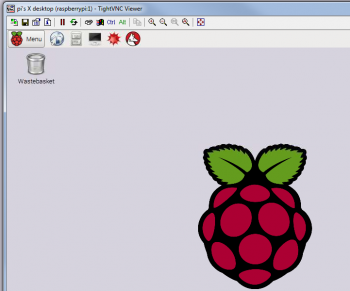 Next step: Configuring the Raspberry Pi
Previous step: Raspberry Pi introduction
Site map: Index to my Raspberry Pi installation & support pages