This topic is applicable to Sonos owners only.
This is the fourth and final stage of the assisted install option for your Raspberry Pi. The first step can be found here.
This stage covers some wrap up jobs; some convenience functions, and some security functions to protect your database, and to protect your Raspberry Pi against hacker attack.
Index:
Cause AlbumPlays to autostart whenever the RPi is rebooted
The Raspberry Pi module of AlbumPlays needs to be already running whenever you listen to music on your Sonos system.
It is likely that your Raspberry Pi has neither screen nor keyboard, so it is best that your Raspberry Pi is kept running the whole time, and that it autostarts AlbumPlays each time that it is powered up or rebooted.
Controlling and observing the Raspberry Pi from your Windows PC
One of the greatest advantages of choosing to run the AlbumPlays Spy component upon a Raspberry Pi, is that it reliably just runs and runs, without need of attention. But there are some exceptions, where you may want to interact or peek inside:
you want to close it down, or reboot it … if you are using the database transfer option, you should protect that database by closing down AlbumPlays before turning off the Raspberry Pi, or rebooting
or you want to check whether AlbumPlays is running, or has successfully detected all of your Sonos zones … your current Sonos plays will be lost if the AlbumPlays Spy component is not running, or it can't see your Sonos zone for some reason … this is useful following a Sonos software update
or you experience a problem within the Spy module … in which case you need to put the Rasberry Spy ito debug mode, or get the info & error logs, so that you can send them to me
or you are using the text file transfer method for fresh play observations, or some communications problem has lost some plays from the transfer *database … you will need to trigger the Raspberry Pi to transfer the fresh observations to your PC
You access the Raspberry Pi Remote Control Menu via a link, which is sent to the transfer location that you specified during install of the Spy module, or manually reconfigured with the Spy module's _nas_path configuration option.
The file name of the control menu link is sonos_spy_menu.html. The menu is rewritten each time the Raspberry Pi is rebooted. It always has the same name, so you may create a desktop shortcut pointing to that file path and file name.
See here for detailed instructions regarding Spy Remote Control menu facilities.
Set your local timezone
Configure your Raspberry Pi so that your track plays are recorded using your local time zone.
Change your Raspberry Pi password
Your Raspberry Pi will appear on your local network as RASPBERRYPI, and its password is albumplays.
The Raspberry Pi device is an example of the "Internet Of Things"; a massive exponential growth of devices which attach to the Internet. Any of these could be targeted by hackers, and you should not be one the 15% of users, who do not change their default password. .. A hacked Raspberry Pi in your network endangers more than just your track play history.
The Raspberry Pi is an extremely successful example of the "Internet Of Things". It is currently the third best-selling "general purpose computer" ever, behind Apple Macintosh and Microsoft Windows PCs. This means that the default password for each Raspberry Pi is known to everyone.
AlbumPlays has already taken a small step towards securing your Raspberry Pi, as it has changed its password, from the default of "raspberry", to "albumplays".
You should change this to a personal password.
Change your Raspberry Pi network host name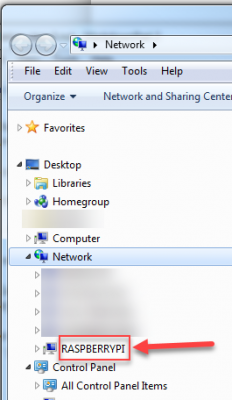 You can change the Raspberry Pi hostname from the default of *RASPBERRYPI". This could be useful if you have more than one Raspberry Pi to add to on your network, or you want rename it to something which better describes its function.
Create a backup copy of O&D component and the RPi environment
You should make a bootable copy of RPi SD card, ie.:
the RPi Operating System
the AlbumPlays O&D component, and its database
all of your configuration
ie. everything 🙂
How to use the clone SD card:
power the Raspberry off
replace the current SD card with the backup copy
power up the raspberry Pi
Configure RPi to send an alert email if problems arise
You can configure the Raspberry Pi to send yourself an alert email if some problem stops it from storing track play observations. It will also send you a confirmation email each time the Spy O&D is restarted or terminated.